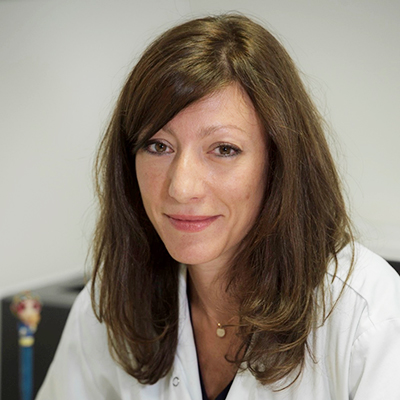 Judith ARON-WISNEWSKY , MD, PhD
University lecturer, hospital practitioner in the Department of Nutrition at Pitié-Salpétrière Hospital
Judith Aron-Wisnewsky is Assistant Professor of Nutrition at the University of Paris Sorbonne (Faculty of Medicine Paris VI), where she is responsible above all for coordinating the process of preparing and following-up on patients who are candidates for bariatric surgery as well as the course of care for patients suffering from severe and complex obesity associated with other medical conditions (cirrhosis, kidney failure).
Following her clinical training in Endocrinology, Diabetology and Nutrition, she completed a masters degree and wrote a PhD thesis in physiology in the laboratory of Professor Clément on obesity, its metabolic comorbidities as well as the role of certain physiopathological factors in weight gain and the development of metabolic changes, including in the microbiota.
She has continued to research the microbiota's involvement in obesity and cardio-metabolic disease by studying the evolution of the microbiota during interventions aimed at weight loss and at improving metabolic abnormalities (in particular diabetes). She is involved in various French clinical research protocols, some of which she coordinates (PHRC-N, CRC, ANR and RHU projects), and is also participating as an investigator in two European research projects (Metacardis FP7 and Epos H2020).
Judith Aron-Wisnewsky is an active member of several national scientific societies in the areas of obesity (Afero, EASO) and diabetes (SFD). She has published over 50 articles in peer-reviewed journals and several book chapters, in particular on the role of the gut microbiota in metabolic diseases. She has been invited to lecture on these topics at French and international conferences.